Fares reform proposals (2018- )
This page contains details of our proposals to government to overhaul fares and ticketing regulation.
How we got here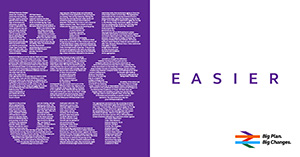 The current fares system was designed in the 1990s and has not kept pace with the evolution of technology and how people work and travel today. The regulations controlling the fares system still assume customers will buy their ticket by visiting a ticket office whilst failing to take in to account the rise in part time working or self employment, up by a third in 22 years.
Further layers of requirements have been added through individual franchise agreements, with little or nothing taken away. This means that long-standing anomalies are becoming locked in, resulting in bigger problems for customers, and there are now around 55 million different fares.
Working together, train companies have made improvements where they can within the constraints of the current system, but real reform requires regulatory change.
In June 2018, we launched the first ever public consultation for customers, businesses, passenger groups, stakeholders, employees and the public to have their say about what the fares system should look like. The consultation ran between June and September 2018. We received nearly 20,000 responses to the consultation and had conversations with over 60 organisations representing over 300,000 other organisations, authorities and individuals.
We used the responses from the consultation and our meetings with key stakeholders to inform the proposals, which aim to make the ticketing model simpler and easier to use for customers and to bring it up to date with technology and modern working patterns. These proposals were published in February 2019.
What we are proposing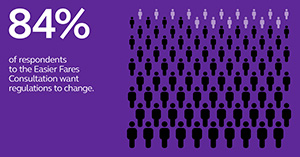 The results showed us that more than 8 out of 10 people wanted the current system overhauled, with respondents calling for a fairer, more transparent and easier to use experience.
Based on what we learned, our proposals have a simple proposition at their core:
Customers only pay for what they need and are always charged the best value fare
The principles include:
a simplified buying process
tickets that better reflect modern ways of working
customers having control over the journeys that they pay for
easy change of plans
hassle-free refunds
good deals for everyone's travel needs
being able to trust their ticket
no need to 'split tickets'
We now want to work with government to begin the process of reforming fares regulation to enable these changes.
Resources